Blue Islands Aiming for a Green Future
If it is stunning sea views above and below the water you seek, you need to look no further than the Miyako Island Region. Only a 50-minute plane ride south of Okinawa's capital Naha, this collection of eight islands are centered on the main island of Miyakojima. 
There are no rivers or mountain ranges on the islands, making for stunningly clear coastal waters highlighted by vivid gradients of blue, commonly referred to as Miyako Blue. White sand beaches are numerous and include the iconic Yonaha Maehama beach, considered the most beautiful beach Japan. Surrounded by coral, the islands are also home to Yabiji the largest coral reef in the nation, encompassing over 100 separate coral reefs and covering an area of 17 by 6.5 kilometers. Yabiji hosts a wide variety of coral and is dense with sea life, and the reefs are shallow, which makes for excellent snorkeling. 
Beyond the natural beauty, there is a great deal of pride in the islands' rich culture and much of this has been preserved. One eye-catching cultural practice still alive on the island is the Paantu Punaha. Held in Early October, it is an ancient ceremony to drive out evil spirits from the village of Shimajiri. Three young men from the village wrap vines and leaves around themselves and lather dark, smelly mud from a sacred pit all over their bodies. Holding scary masks, they move around the village smearing mud on people they come across. It is believed that good fortune will come to the recipients of a mud swipe, and if you have just built a house or had a child, you are almost guaranteed a visit from these muddy exorcists. It is quite an experience to see a ceremony in action, but visitors are advised to maintain a respectful distance and be sure to wear clothes suitable for a few smelly mud stains.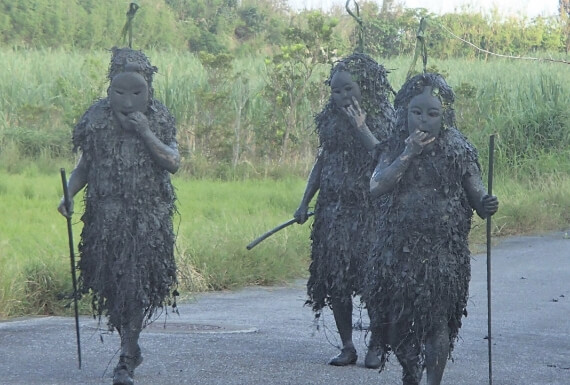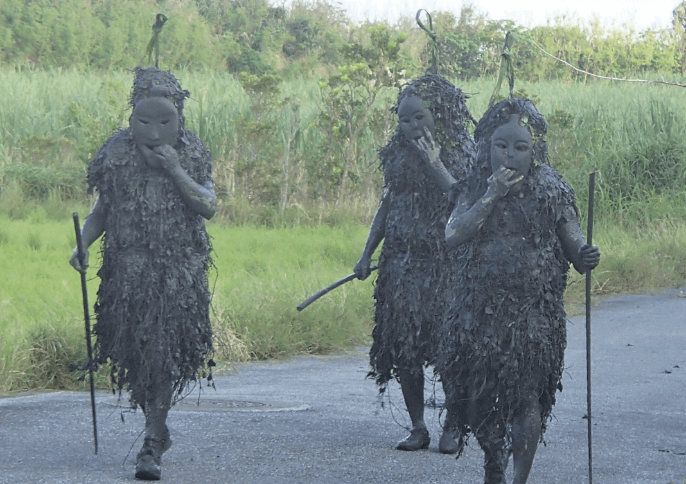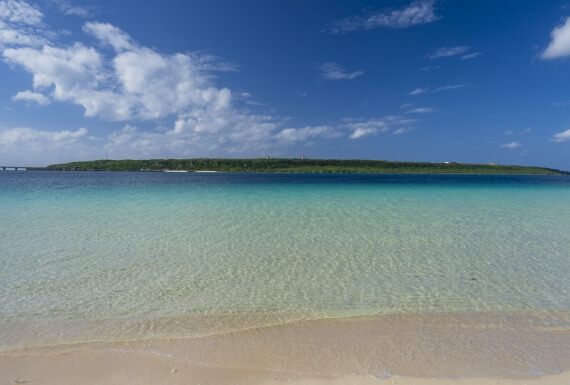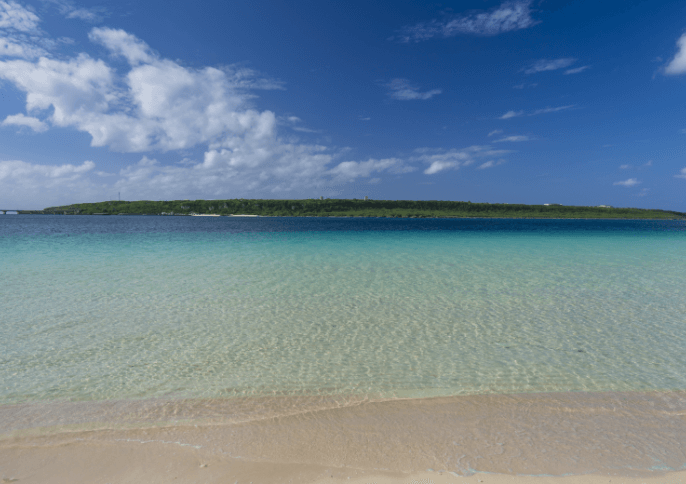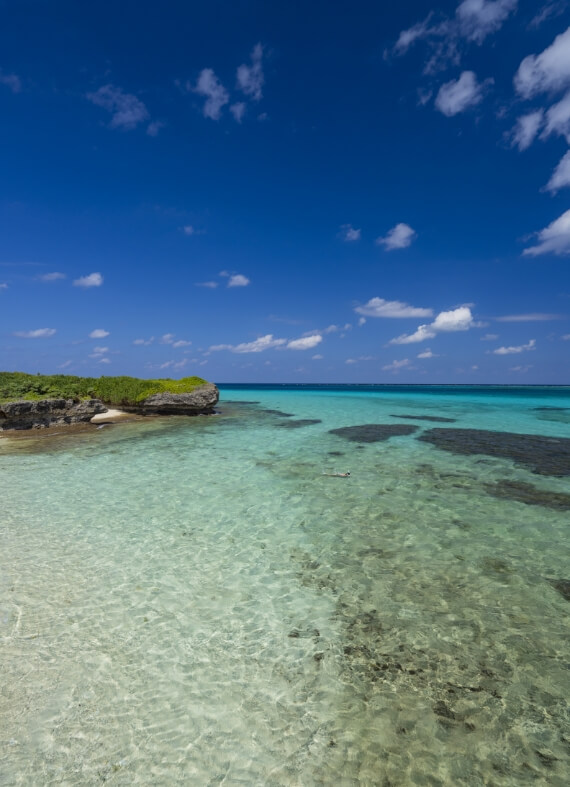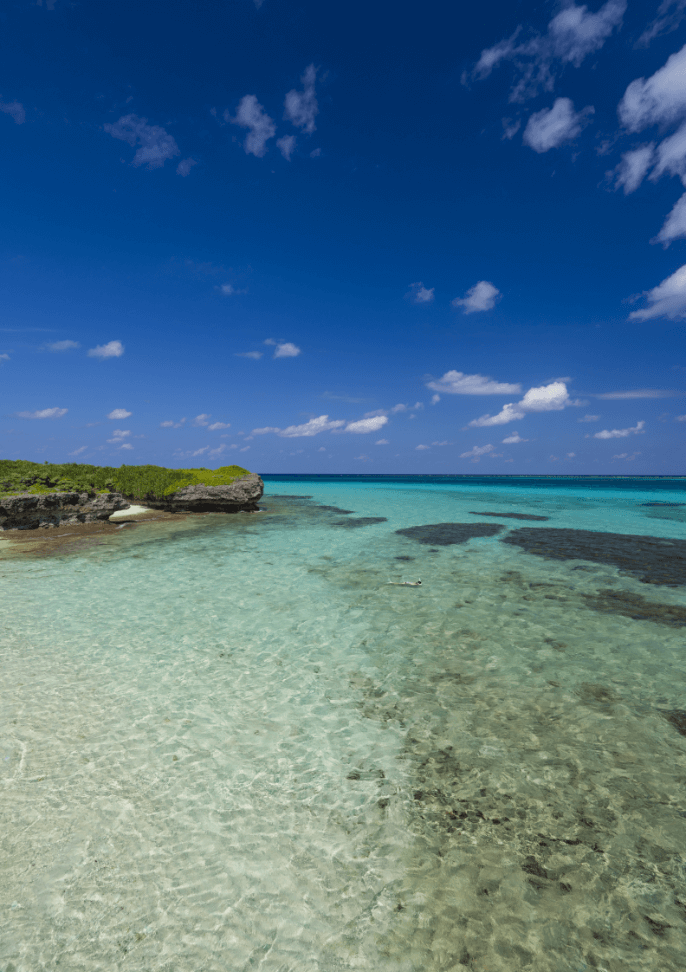 Given the islands are regularly visited by strong typhoons, and are naturally susceptible to water shortages, Miyakojima is vulnerable to climate change.Consequently, the local government has made it a priority to preserve the islands' beauty by creating an environmentally sustainable future. A landmark in this journey took place in 2018 with the Declaration of Eco Island Miyakojima 2.0, which presents a vision of the island's sustainable environment 1000 years into the future—a place with abundant water resources, well-preserved coral and rich biodiversity. The plan is designed as a wide-ranging update for the island, its transport, housing, and energy infrastructure, all of which will be environmentally sustainable and networked to create smart communities. 
As the 2.0 in the name would suggest, this is not the first time the Miyakojima government has mapped out a path to sustainability. However, residents previously found it challenging to grasp the concept and how to participate. The 2.0 version of Eco Island encourages both residents and visitors to create the islands' sustainable future. In 2019 they introduced an "ideal" currency, the MYAHK. People can earn MYAHK by participating in environmentally-sustainable activities such as beach cleaning, and use this local currency for purchases and discounts at sustainably-oriented businesses around the island. Full of ideas for sustainability action, the recently released Miyakojima Eco Passport is a handy pocket-sized summary of what it takes to be a responsible and ethical visitor to the islands.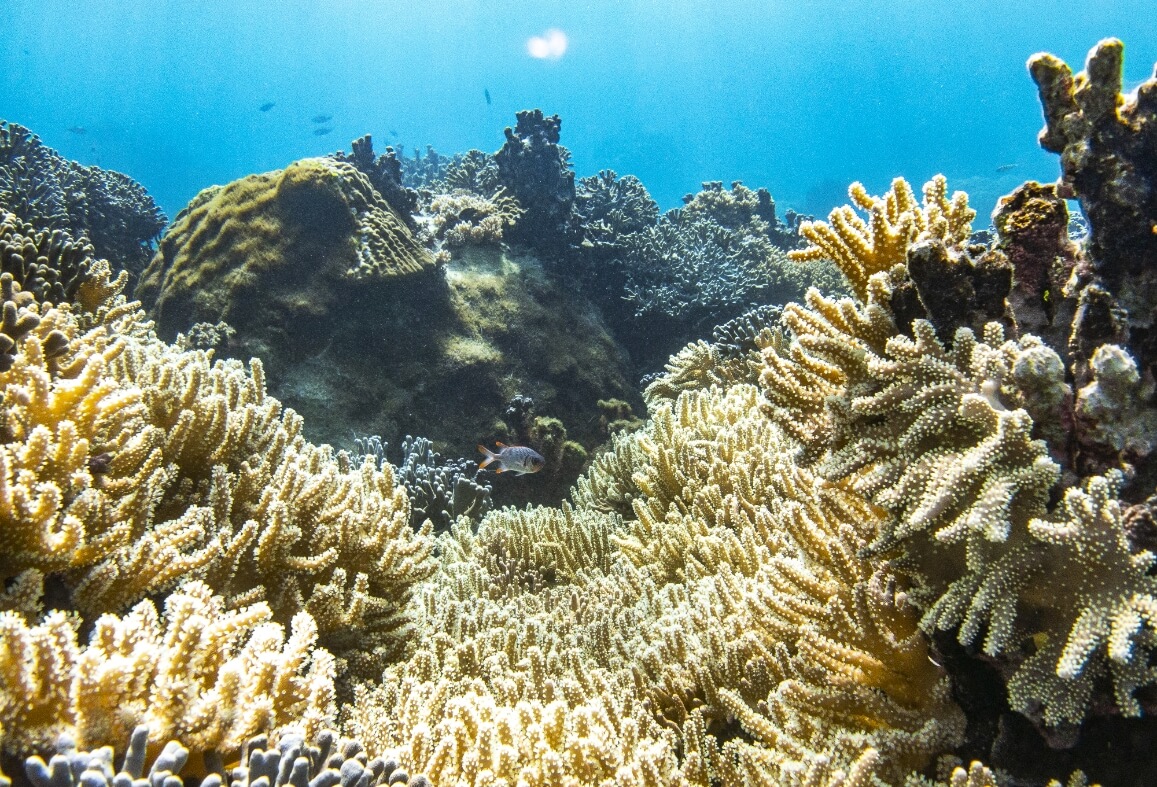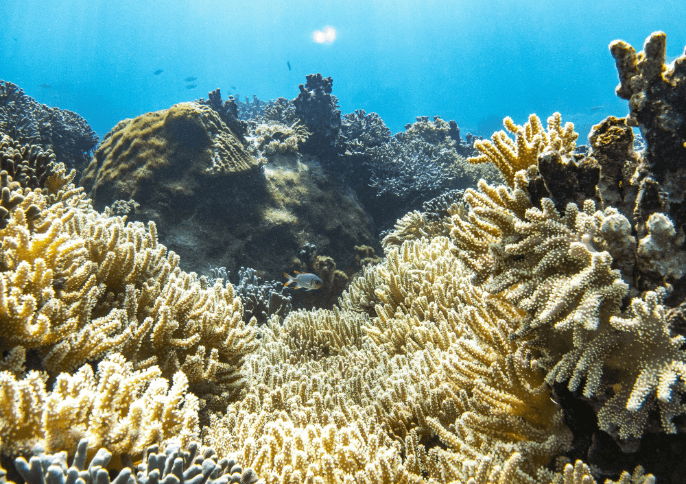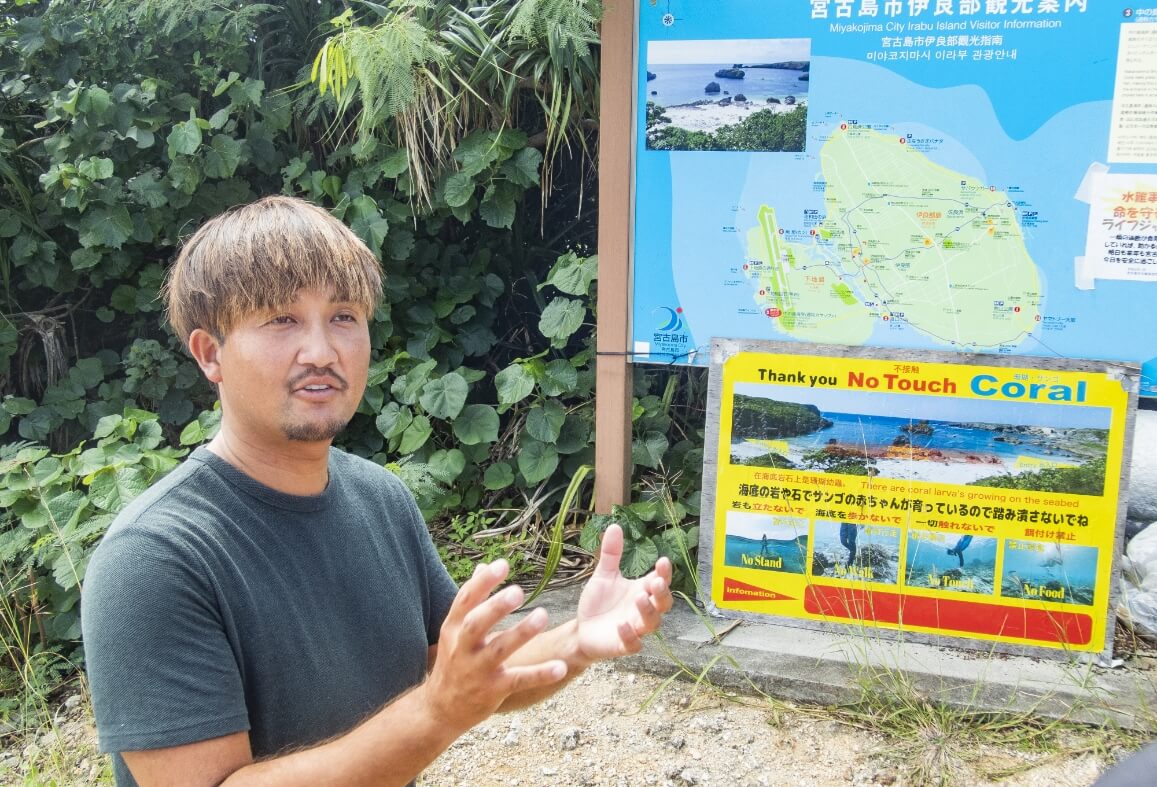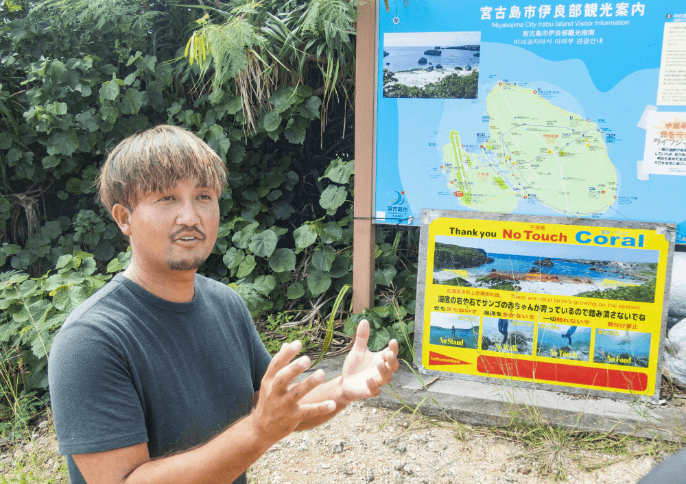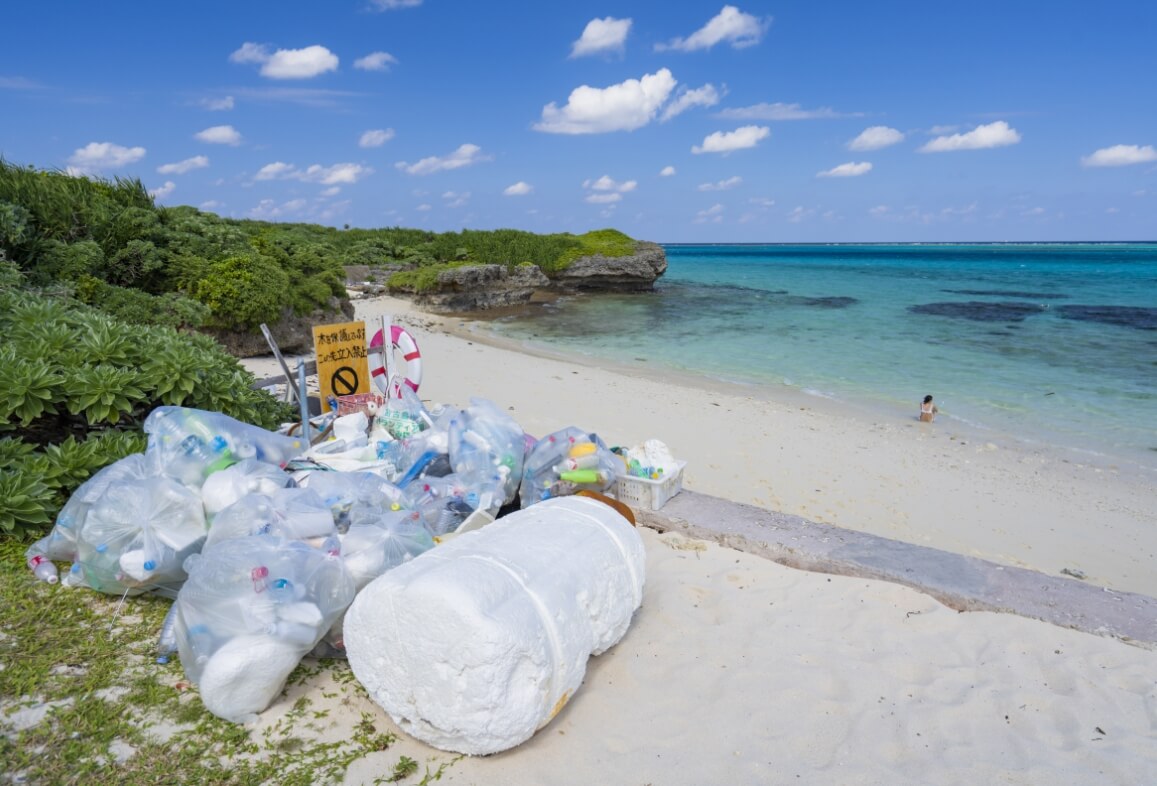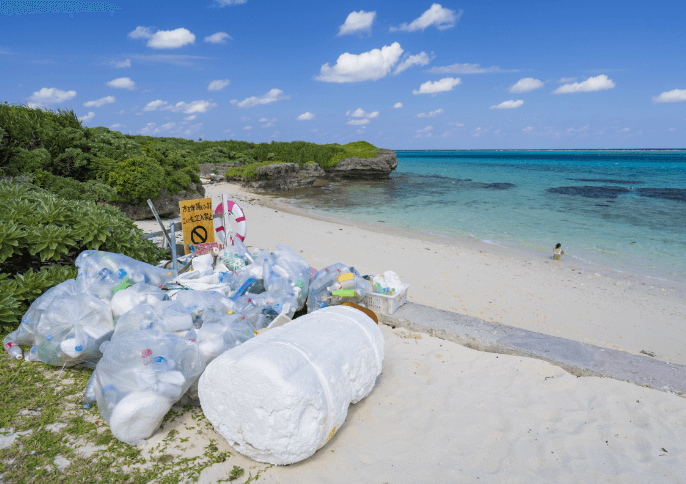 Aware that most visitors to the islands want to experience the beauty of the surrounding ocean, the Miyakojima Eco Passport details the basic rules, of what they call "No Touch Coral Manner." In a nutshell these are: don't stand on coral, don't walk over coral reefs, and, of course, don't touch the coral. It is also important to be aware of the dangers of being in the ocean as there are poisonous creatures and strong currents in many places off the islands' coasts. Do read the signs and make sure to stay at your level of ability. If you haven't had much experience of the ocean and are not a strong swimmer, always wear a lifejacket, and don't swim by yourself especially in unfamiliar waters. 
Especially for first-timers it is important to join a group tour. Not only is it the easiest way to learn how to snorkel, but you will be taught what dangers are in the ocean, as well as how to treat the coral and other sea life. One popular tour destination is Nakanoshima Beach on Shimojijima island. This picturesque bay is sheltered from currents and relatively safe even for novices, and if you join a tour, such as those run by Eco Guide Café, you will be in trusted hands. Their "No Touch Coral" tour gives basic instructions on how to snorkel, as well as accompanying participants to the interesting places in the bay to see various types of coral and fish. Having an explanation of what you are seeing is a great starting point, but the tour also includes ample time to explore on your own once you are confident of the basics. 
Eco Guide Café started with a sustainability focus over 20 years ago, but the dramatic rise in visitors to the islands have put their work into focus. In recent years three bridges connecting nearby islands to the Miyakojima main island have been built. While this allows easy travel to previously isolated places, it is also putting unprecedented pressure on the delicate coral ecosystems. Eco Guide Café is working with other tour companies to make visitors more aware of their impact, by erecting educational signs at beaches and employing multilingual guides to help people from countries unfamiliar with coral's delicate nature. However, the guides look to other beaches on the main island to see just how much damage can be done in a short time, and they worry for the future of this little piece of paradise filled with fish and corals. Preserving what remains requires a commitment to a sustainable future by us all.