Yanbaru a Biodiversity Hotspot Rich in Nature and Culture
Need a concentrated dose of healing nature when in Okinawa? Then head to the villages of Kunigami, Ogimi, and Higashi the three administrative districts constituting Yanbaru, the heavily forested northern part of the Okinawa Main Island only a 90-minutes' drive from Naha. Yanbaru is a digest version of the geological history of the Ryukyu Archipelago. It contains a highly diverse natural environment including limestone sea cliffs, karst landforms, and mangrove forests.80% of Yanbaru is covered by lush subtropical evergreen forest. It is home to a vast array of flora and fauna that have developed independently on the island over millennia to create a beautiful and complex ecosystem.
While Yanbaru accounts for less than 0.1% of Japan's total land area, it is home to a high percentage of plant and animal species, with about half the number of bird species and about a quarter of the native frog species found in the entire country.Amongst these are a wide variety of endemic plants and animal species, including the endangered Okinawa rail, a small flightless bird. Given its environmental significance, Yanbaru was declared Japan's 33rd national forest in 2016, and is currently in UNESCO World Natural Heritage listing application process. Long before this official recognition, however, the forest has been revered by the local inhabitants. They prize it as a place of abundant resources, and home to spirits and the location of many sacred sites.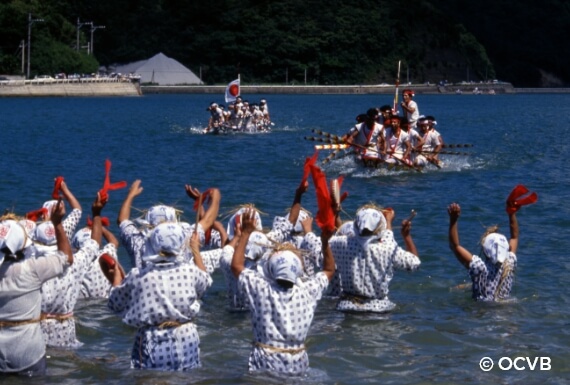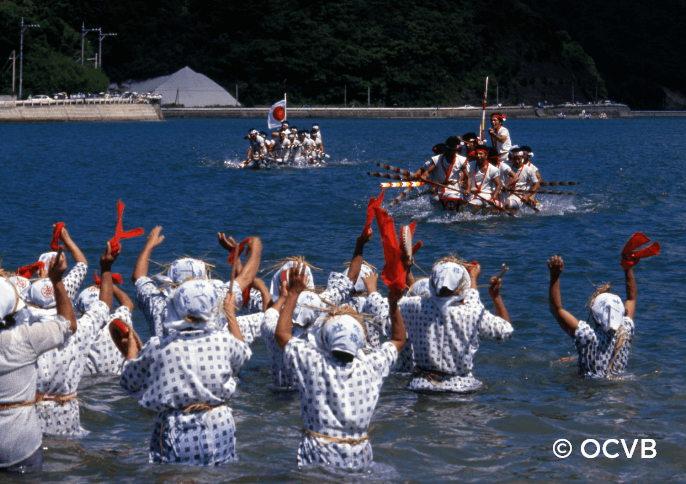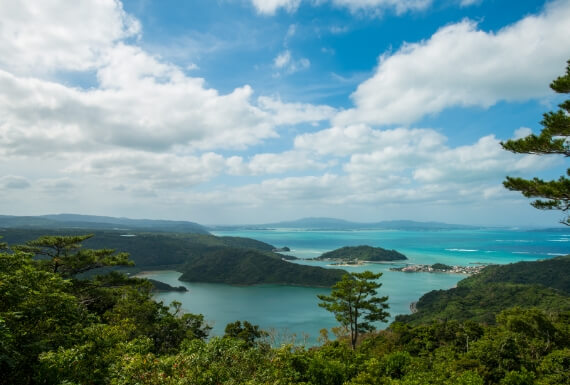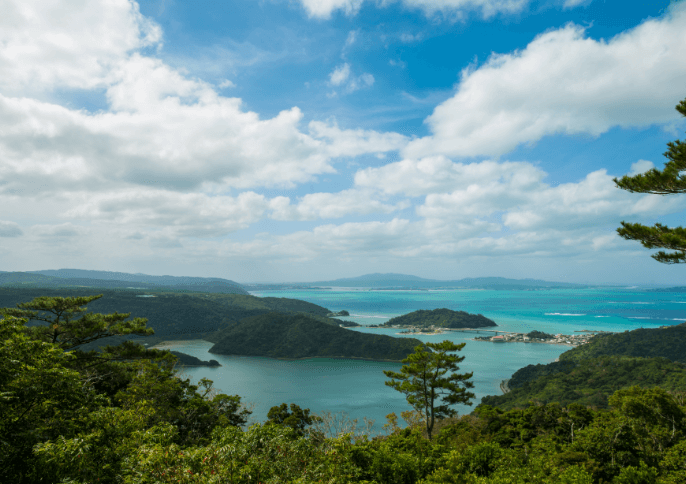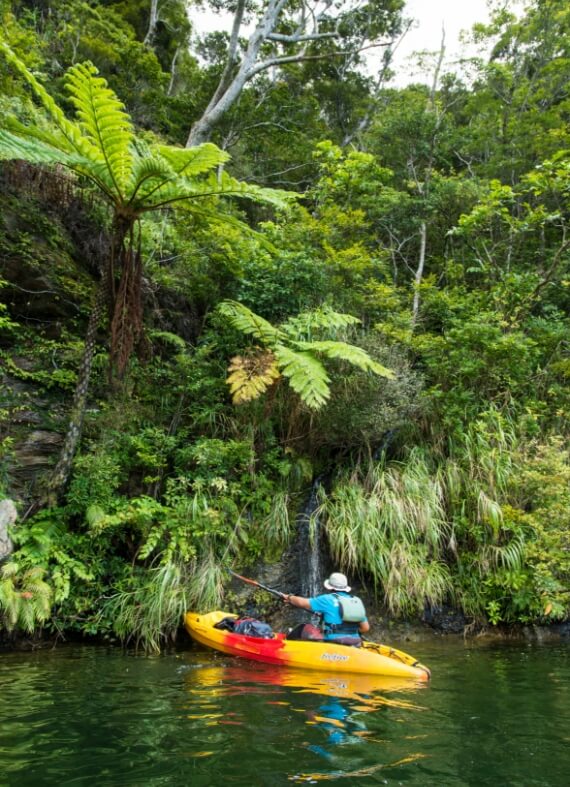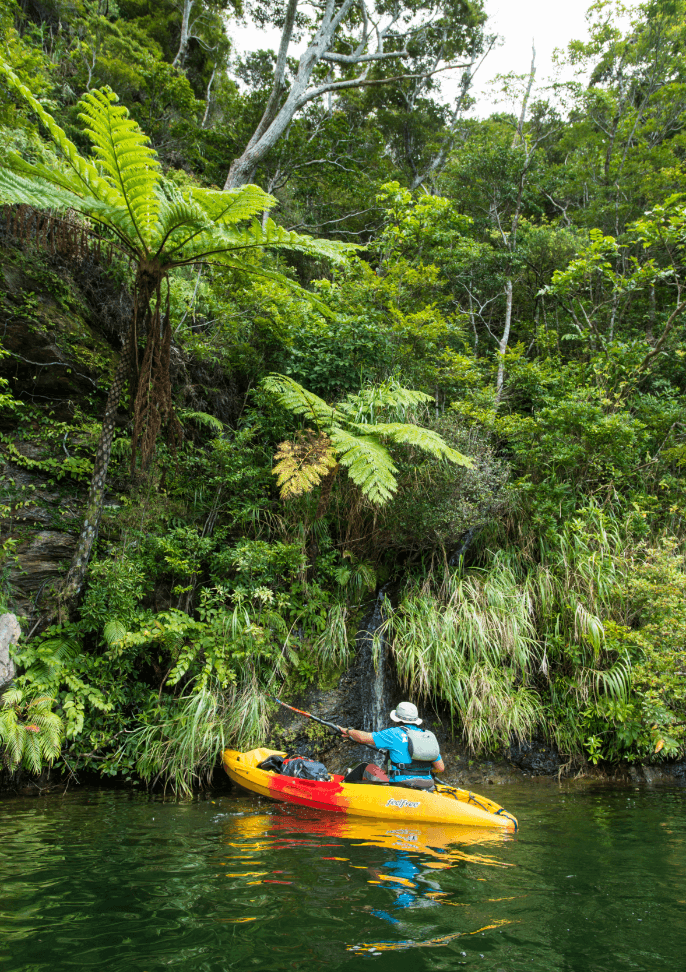 In Yanbaru, traditions are long-lived, and the area is home several culturally significant festivals. The Shioya Bay's "Ungami" in Ogimi Village is one such event. This festival gives thanks for the harvest and invokes the deities to bless the coming year once again. It has changed little in over 500 years. The Fall event's highlight is the "uganbarii" boat race, where women wade waist-deep into the water, banging drums and singing to welcome the paddlers as they charge furiously over the water. It is a fascinating sight, and highly recommended to visit, but do take care where you observe the proceedings from so as not to get in the way of unfolding events. 
Each village in the Yanbaru area strives to preserve both local culture and the surrounding nature from which much of it has been derived. The Higashi Village Tourism Promotion Council, an organization of local tour guides, is pioneering eco-tourism activities in the area. Their efforts, however, were born of necessity as Higashi Village hosts an extensive mangrove ecosystem, and the dramatic rise in tourist numbers in recent years was putting it at threat of over-tourism. They needed to decrease pressure on the mangrove ecosystem, and guides responded by expanding tour options in under-utilized areas of the surrounding forest. Working with the local authorities to access Fukuji dam, the island's first and largest dam, they gained permission to take visitors to previously inaccessible spots of great natural beauty.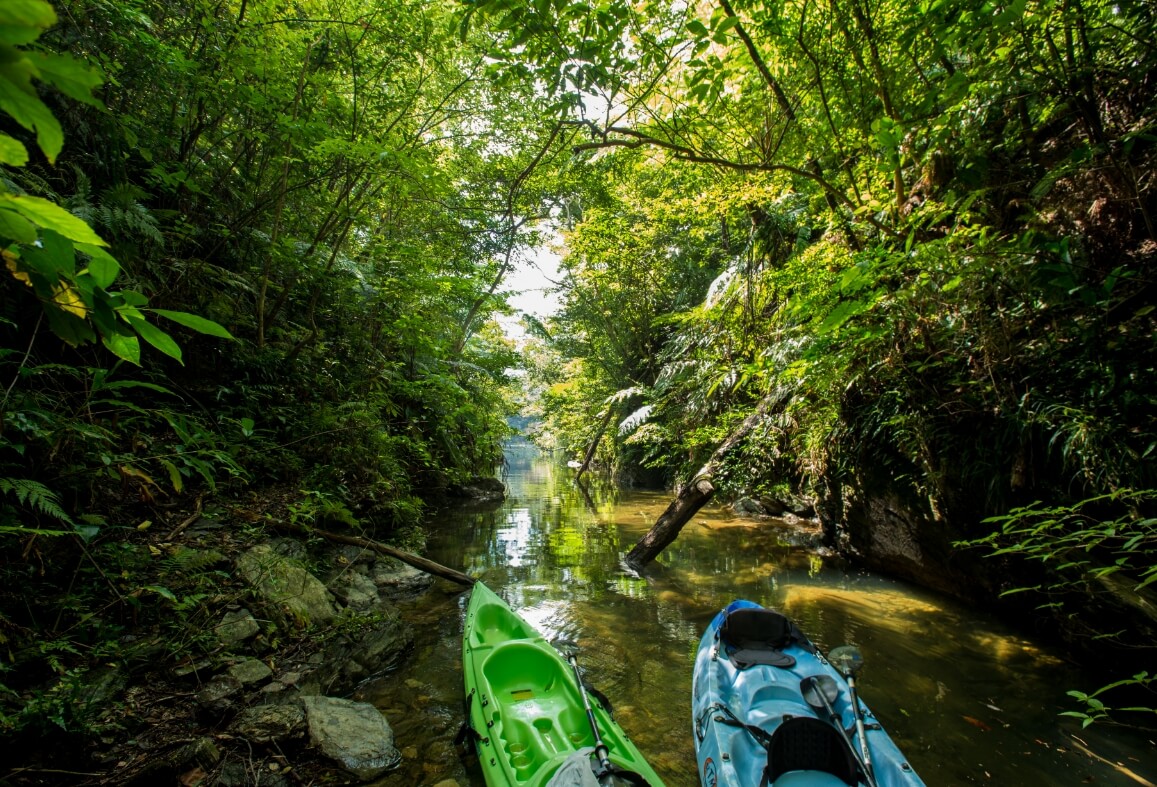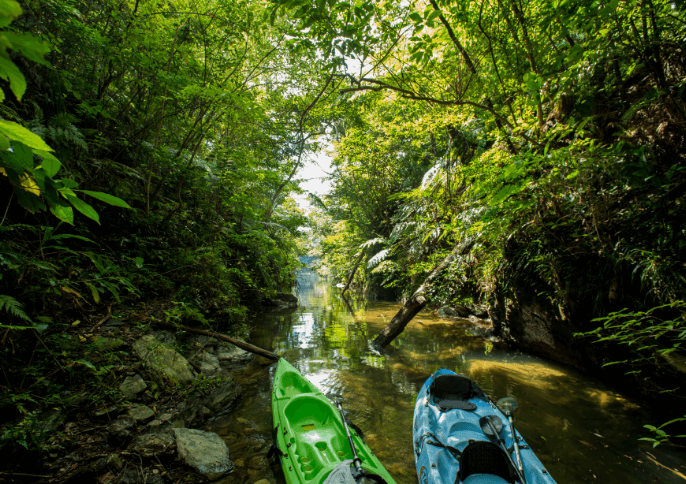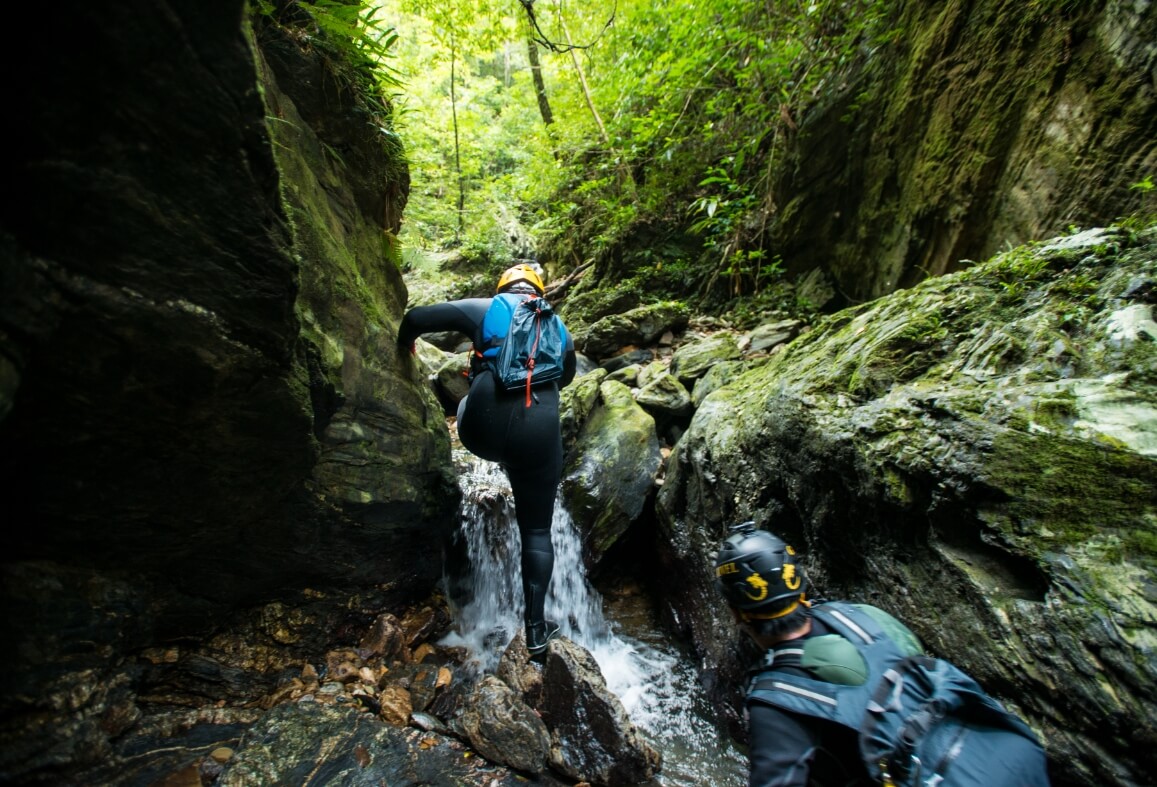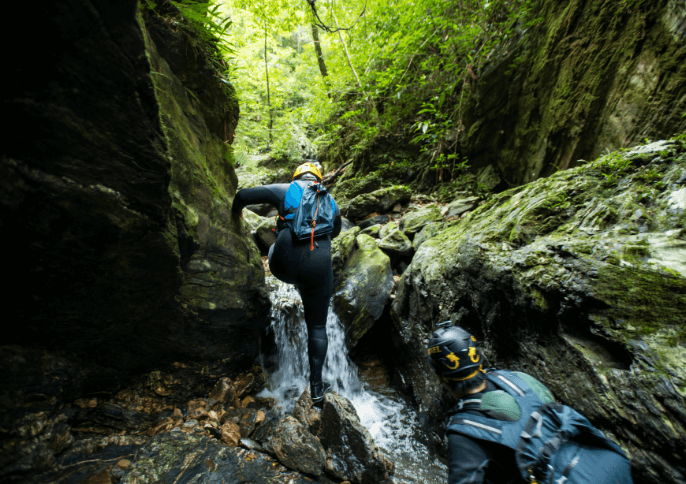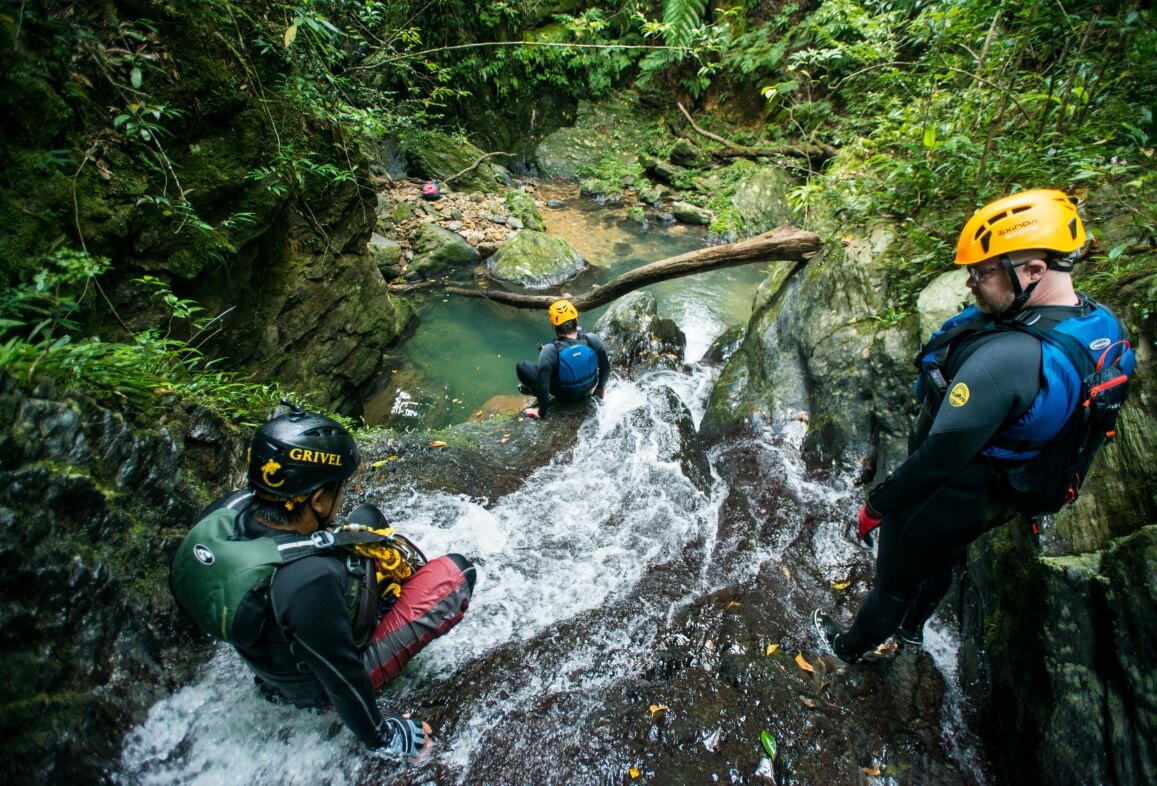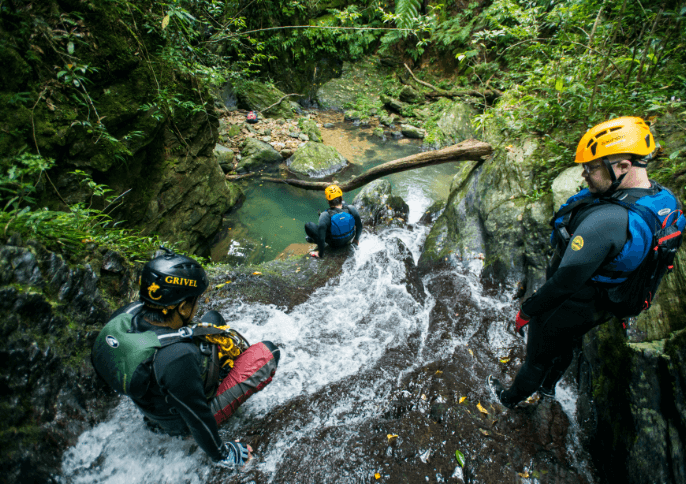 Popular amongst these new destinations is a river trekking course where guides take small groups up one of the many streams that feed into the dam. The dam is fenced and locked, but the guides' have access to the keys, and the dam entrance serves as an easy tour departure point. The river trek course is on the far side of the dam, so visitors also have a chance to practice their kayaking skills en route to the stream. While physically challenging in some parts, tours can be tailored to participant's levels. The guides make sure that everyone is aware of the nature of the activities, such as walking in cold water streams and over slippery rocks. The guides are all very experienced, and there is pre-departure instruction, and appropriate clothing, such as wetsuits and special river shoes are available for rent before departure. 
The view of the forest from the kayak is breathtaking, providing a 360-degree panorama of distinctly shaped forest trees, which the guides joke look like giant heads of broccoli. The greenery gets evermore dense as you paddle upstream to the landing point, and it gives one the feeling of entering a sacred temple of Nature. The guide points out passing animal life, such as lizards and dragonflies, and identifies bird calls as the tour works its way up the rocky river bed. Walking in the cool crystal clear water, you are surrounded by lush green and unfamiliar sights and sounds. It's an experience that leaves visitors with a palpable sense of isolation from the human world. The final destination is a rock pool deep enough to swim in, overlooked by a small waterfall from which it is safe to jump into the water below. The waterfall leap is an invigorating last challenge before the guide prepares a hot drink and snack to build up the energy to retrace your steps. 
Yanbaru is awesome nature at its best, but it is also a place that comes with challenges. Consequently, visitors need to prepare for physical challenges and risk of injury, as well as other aspects such as getting dirty or meeting insects. Guides, especially local guides, will assist in having a trouble-free tour, but visitors should also be aware of their own presence when traveling around the area. It is very easy to become lost in the forest so do not go off marked trails, and do not drive vehicles on unpaved roads, both which can be dangerous and destructive to wildlife. It is strictly forbidden to light fires and take any flora or fauna out of the forest. Also, take care not scare animals, and be extra cautious on the roads so as to avoid hitting any endangered Okinawa rail. 
Traveling in Yanbaru is both visually stunning and highly rewarding, and being able to share this space with the wealth of forest life is a privilege that should not be taken for granted. There are many protection measures local communities have put in place in an effort to preserve their natural surroundings. Actively participating in these measures by obeying the rules not only has the effect of preserving nature, but also helps to build stronger bonds between locals and visitors to the area.