LIFESTYLE

"As a chef, I have a desire to learn more about the history and ingredients of Okinawan food."

One of the attractions of Okinawa is its 'champuru' or 'mix culture' that also applies to food. Okinawa has built up a unique food culture based on its history that has been influenced both by the trade with Asian countries during the Ryukyu Kingdom era that lasted for 450 years and and by 27 years of American rule after WWII.

In the Ryukyu Kingdom era, the court cuisine was born to accommodate the envoys from China, which Okinawa had extensive trading ties with. About 400 delegates from China stayed in Okinawa for about half a year at a time, and it was said that all the pigs in the kingdom were eaten up every time. Each item in the meal was delicately prepared, like, for example, the 'flower squid', which is squid cut into the shape of a flower and served on a red Ryukyu lacquerware plate, and 'minudaru', which is a thinly sliced pork loin marinated in black sesame and soy sauce and sugar and steamed. The court meal prepared over a long time was regarded as the essence of hospitality.

On the other hand, the common cuisine was built with the wisdom to nourish even the poor, such as combining sweet potatoes, a staple at the time, with seasonal vegetables, seasonal small fish and seaweed.

In a hot and humid island environment where food easily spoils, creative ideas were born, such as adding vinegar to fish when eating it raw and stir-frying vegetables. That is one of the reasons for Okinawan people's famed longevity.

A local dish that represents Okinawa the most is called "Champuru" that in essence is simply a combination of various ingredients fried together. Also, there are a variety of Okinawan foods such as pork and egg rice balls that are made using pork luncheon meat introduced to Okinawa by the United States' military, smoked, dried and ground sea snake that works well for nourishment, and Okinawa soba noodles in bonito tuna broth that is regarded as Okinawan soul food.

During the tour, there were 5 to 6 food items to choose from as the participants strolled around the market while sampling different foods.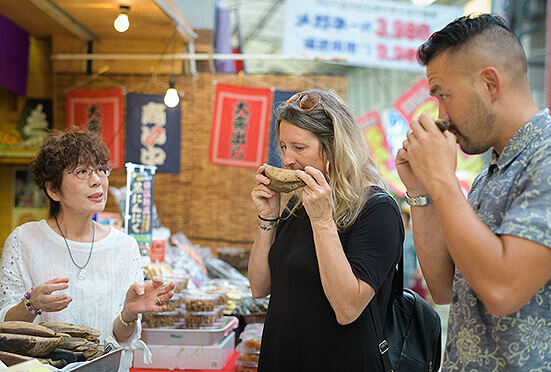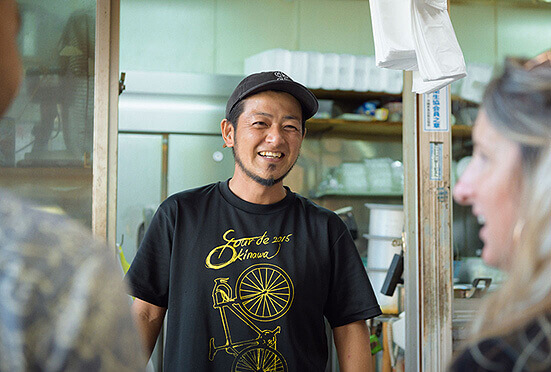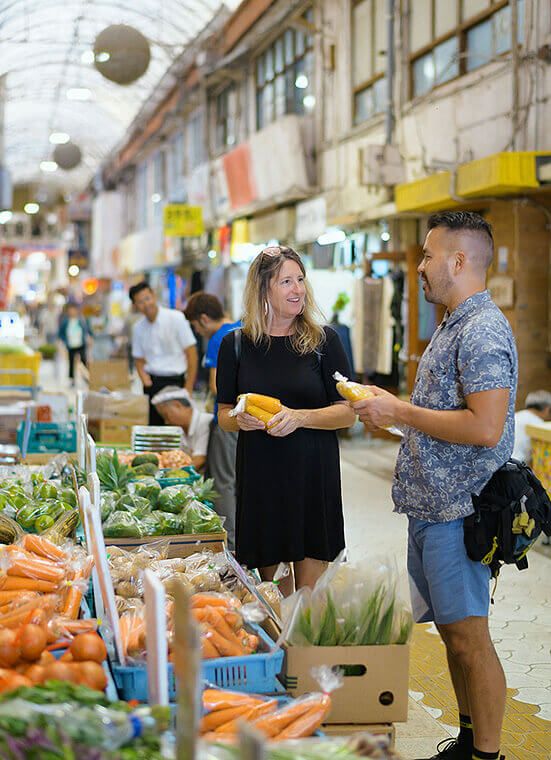 "Atmosphere at Naha's Shitamachi-Dori was exotic and exciting. It was precious to discover the relationship with various Asian countries and the lifestyle of the island."
Pamela moved to mainland Japan in the latter half of 1980 and lived there for nearly 15 years, and for about six years in Greece, which she had admired since childhood. She then moved to Okinawa. "Healthy and laid-back lifestyle in the blue zone by the beautiful sea, open-minded and friendly locals make Okinawa and Greece very similar," she says. She believes that she can live here using only ingredients grown on the island like in Greece. With help from local dairy farmers, she succeeded in making fresh cheese using Okinawan goat milk and keeping the traditional manufacturing method without using any additives.
Pamela's experience of the Hidden Naha Food Walking Tour, on which participants can enjoy sampling food while walking around the market, began with the entry to an alley from Kokusai Street, the main street of Naha. Hirofumi Ozawa, also known as Hiro, is a chef and hosted the tour. On the day of the tour, we met up at Kokusai Street for a Meet & Greet session.
The two chefs, Hiro and Pamela, made plans for our tour discussing what foods were of interest. The tour features local dishes such as 'goat soup' related to Greek cheese, which is Pamela's life work, and 'Jimami tofu,' which is made of peanuts and was used in court dishes, and various other foods. Then we decided to walk around. Walking through the arcade, we came across dry sea snakes hanging at a storefront and traditional sweets for celebrations on display.
And the interesting subjects do not end there. The area around the market exudes a genuine Okinawan atmosphere, exotic and downtown-like. It satisfies both your stomach and heart.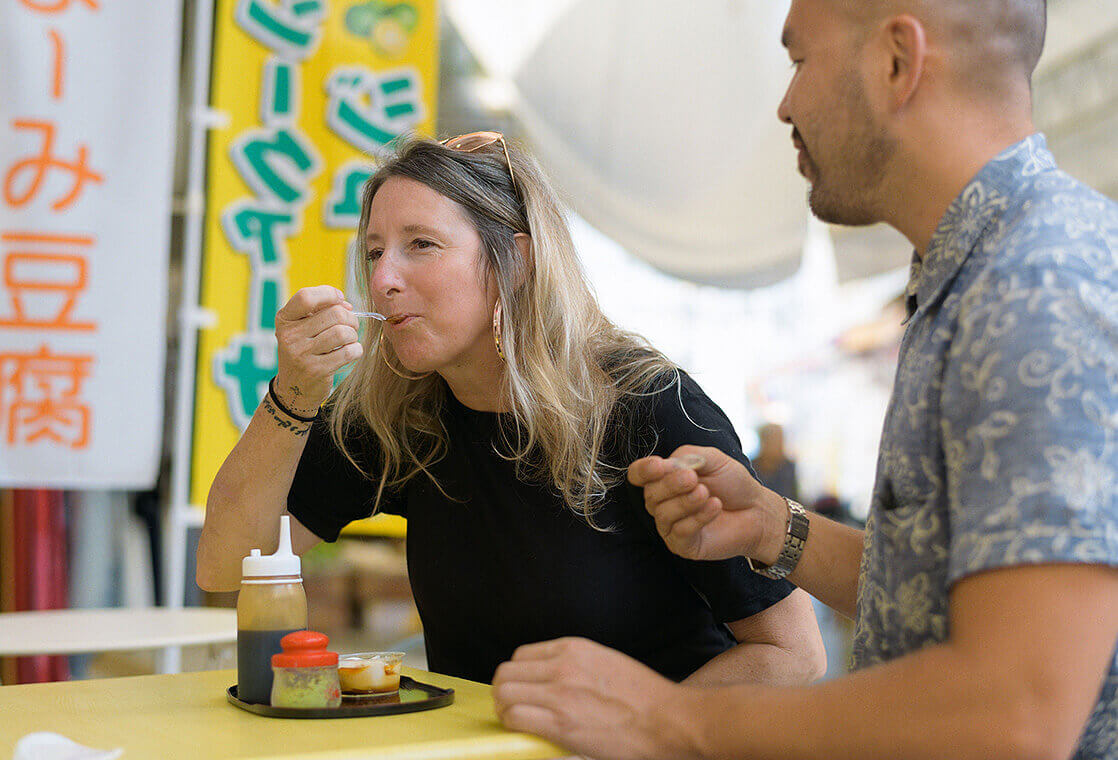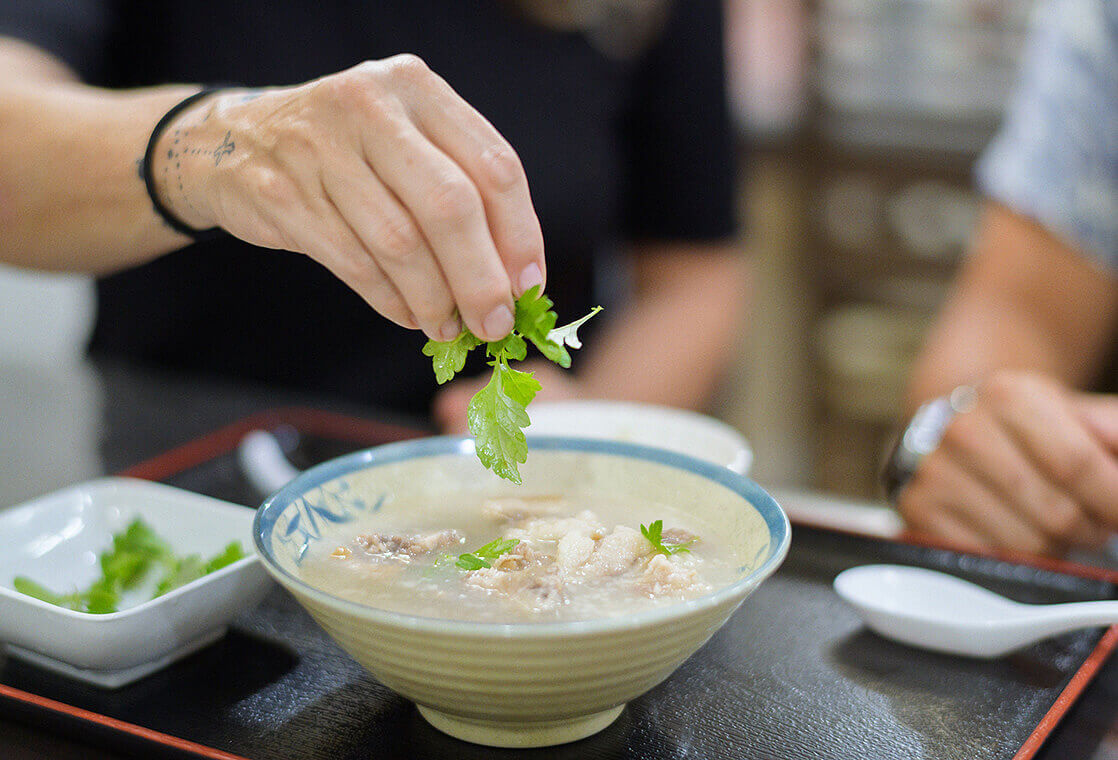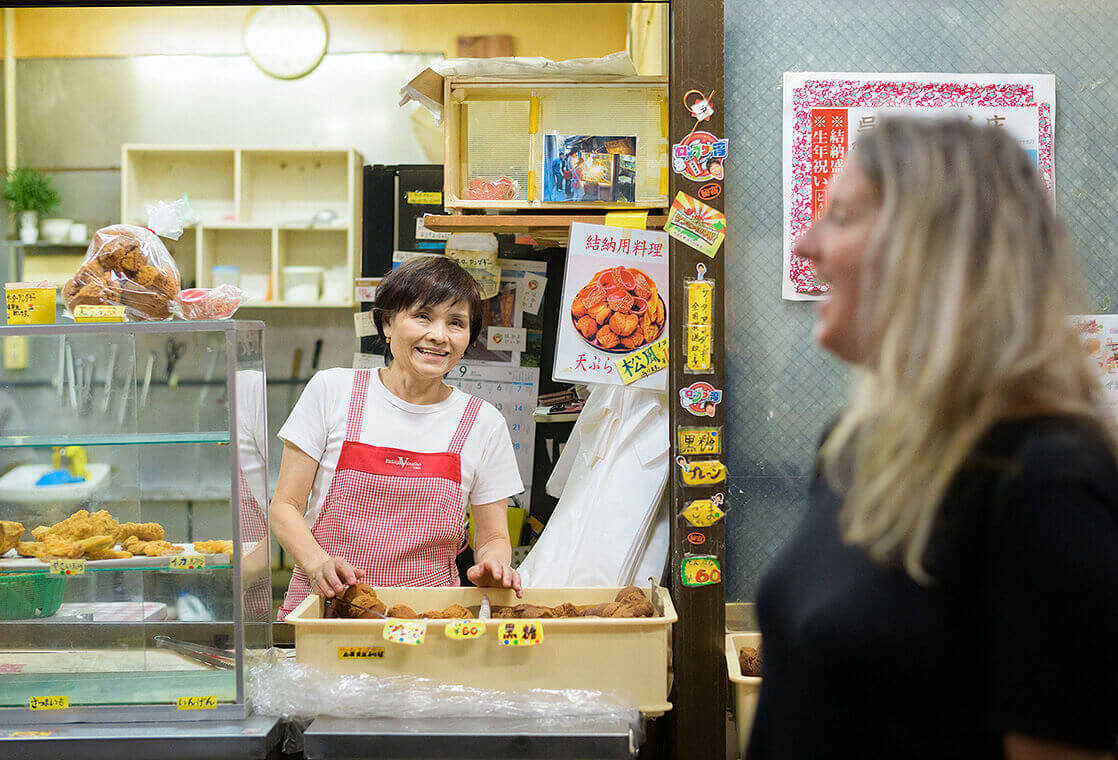 "A walk around the market was full of surprises, discoveries, and local encounters. This is a recommended spot for every traveler should visit once."
The Makishi and Tsuboya areas are lined with traditional markets and shops. After the war, black market shops mainly selling the U.S. military surplus goods, sprung up in the Makishi area, and Naha City opened a public market to regulate them. (As of 2019, the rebuilding of the market is underway, and it's scheduled to re-open in April 2022 at the same location). Beyond the arcade, there are clothes stores, shops selling side dishes, dried foods like kelp and sea snake alongside souvenir shops. The narrow back alleys that can only be reached by bike or on foot create a nostalgic atmosphere where the time has stood still. It presents a mixture of Asian ambience dotted with standing bars, sushi restaurants, and small cafés creating one more unique feature to Naha City.
Pamela was most interested in the goat dishes. After the war, the goat milk and meat were common local dishes eaten as a precious protein source for nourishment, but nowadays goat sashimi and other goat organs are available only at specialty stores. This time we tried goat soup, in which goat bones are cooked whole for a long time and seasoned with just a little salt.
In the fish shop, she was impressed by Gurukun, the red Okinawan prefectural fish that looks blue when in the sea. Okinawa is the top consumer of the fish in the country and it's an indispensable part of local cuisine.
Finally, there is no end to the discussion of how to read the brands lined up at the counter of a standing bar.
"Okinawa is an island where you can have fun interacting with local people. Especially in this area of Naha, it was a lot of fun to meet people as I walked around," Pamela said. In other words, enjoy the Culinary Tour with your all five senses, from interacting with local people to getting to know the local food.
Hidden Naha Food Walking Tour
An experience tour by Hirofumi Ozawa, an Airbnb host who has worked as a chef in New Zealand, Australia, and Canada. The popular tour takes participants to walk around the streets for about two and a half hours following the guests' requests. During the tour, participants can sample 5-6 dishes and sweets. The participation fee includes the price of the dishes.