ADVENTURE

Do you have a "spirit animal"? Ludo Touitou does, and his is a sea turtle.

Early in 2021, soon after moving to Okinawa Main Island, Ludo came across a sign indicating the beach below was a turtle hatchery. He recalls feeling like he had been transported directly into a BBC nature documentary, and he wanted to see it all in real life. Not long after, he was able to observe turtles laying eggs in the south of Okinawa, something he found unexpectedly emotional.

Ludo was hooked, and his journey into the world of sea turtles had begun. Before long, his family had moved to a coastal house in Itoman, in Okinawa's south, and he joined a group of volunteers monitoring the turtles and making sure they were not disturbed during the special parts of their lifecycles.

Now Ludo is living his nature documentary life and has four turtle friends that live in the nearby reef lagoon. Whenever possible, Ludo and his family visit their friends in the lagoon, and he feels they have got to know each other. "We have names for each one and know their habits, which ones like to eat what seagrasses, and others that like deeper water and different food. So, we go there to observe and not disturb, and I think the turtles know us. We share some sort of mutual recognition."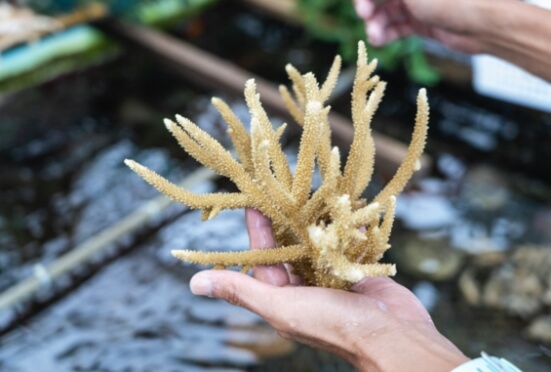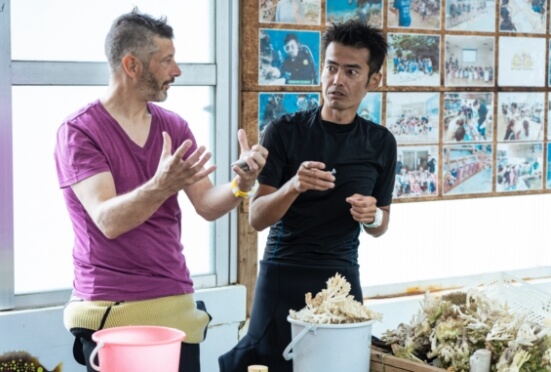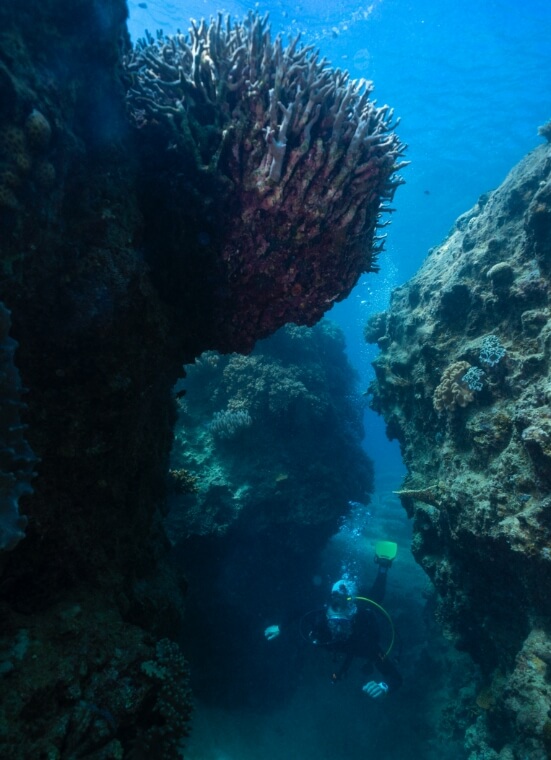 "Underwater is a very different world. It is like going into outer space, and you see things you would never normally see."
Today is a bit special for Ludo. He wants to put his diving license to use and see if he can make some more turtle friends in Manzamo, one of Okinawa's prime diving spots on the west coast of Okinawa's main island. Ludo's trip takes place under the watchful eye of divemaster Yamamoto Hiroaki from the Lagoon diving shop. After a basic orientation and kitting up at the dive store, Yamamoto reminds our group of the fundamental rule, "You are a visitor in someone else's house, so you need to be conscious of behaving well and not touching or breaking anything. Leave the water as you found it."
Ludo was surprised that the first dive spot was only five minutes from the port, as he had expected a longer boat trip. Sensing his reaction, Yamamoto commented, "There are not so many places where the human world and a vibrant coral reef world live in such close proximity." Indeed, the combination of diversity of coral, consistently high visibility, and the wide variety of dive spots in a concentrated area are rare, and it is why Okinawa enjoys an exceptional reputation in the dive world.
Anticipation was high as the boat moored for the first dive. Half an hour later, Ludo returned excited, "We dove at the edge of the reef. It's something to behold. I appreciated the reef's safety but was really impressed with the sharp drop-off falling out of sight. It was a kind of adrenaline rush that gave me a breathtaking glimpse of deep nature." But he had saved the best news till last. They had seen a turtle!
Entering the water Ludo was immediately on the lookout for his spirit animal, but to no avail. However, Yamamoto's keen eye was drawn to an unlikely spot on the ocean floor. They had come across a turtle when it was resting nestled underneath an overhanging rock. It was the first time for Ludo to see such a sight. "I was able to approach it while it was resting, which is something different for me. The turtle was very calm, and I could come very close without frightening it." If nothing else happened, today would already be a great success for Ludo; but there was more in store for at the second spot.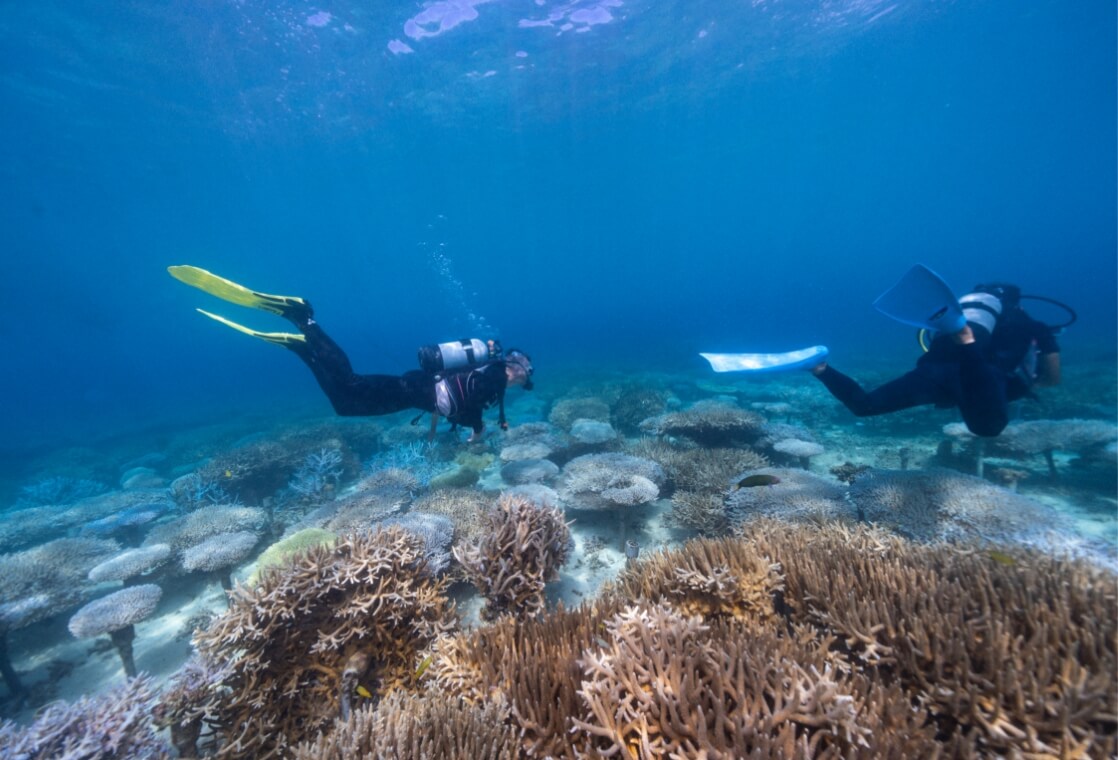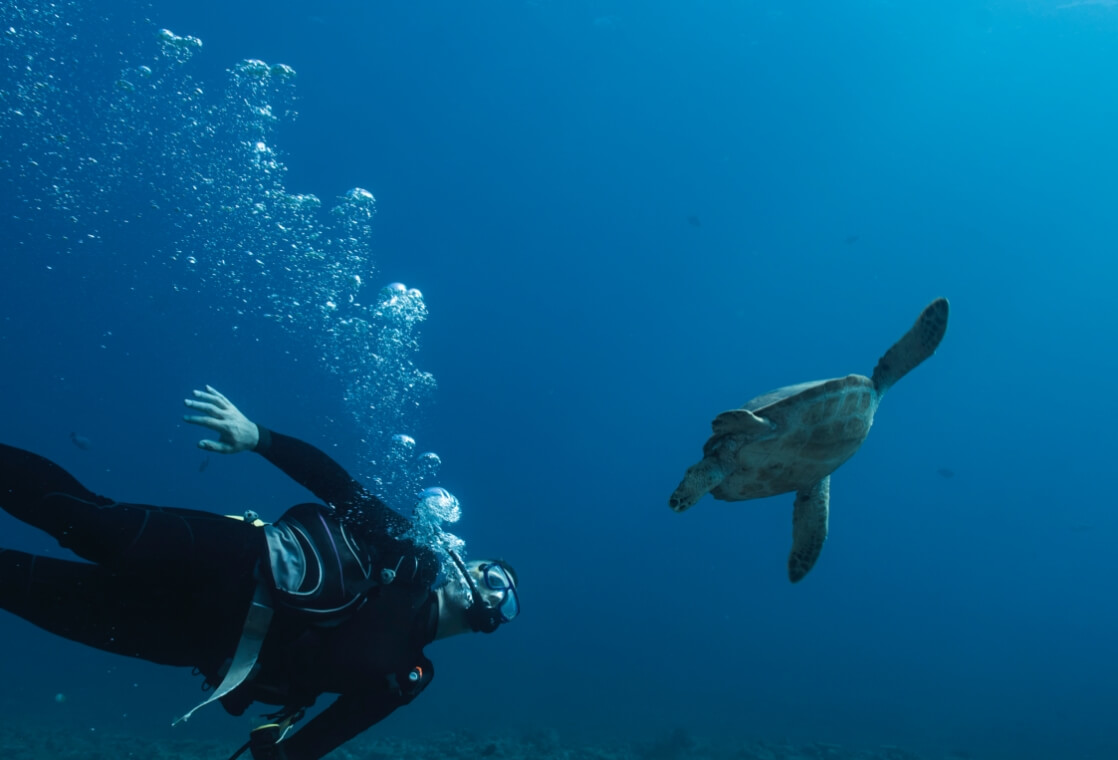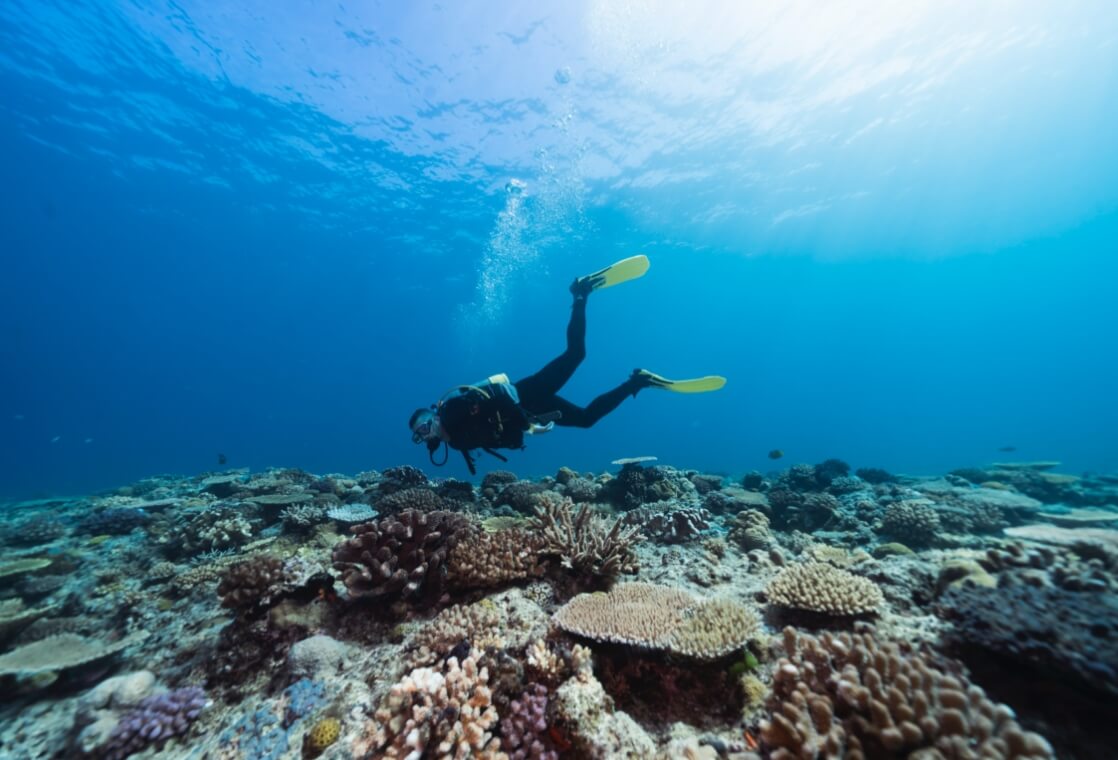 "The Manzamo area is the type of diving spot that you can come to repeatedly and still have fresh discoveries and challenges awaiting you."
During the dive break, Yamamoto deepened our understanding of the Manzamo ecosystem. The Kuroshio, a major current running northward along the western Pacific, is nearby and brings enormous sustenance to the corals and the mass of living organisms. The diverse underwater terrain is also a feature. It offers divers with more experience a variety of tunnels, such as the "Dream Hole," rock overhangs, and underwater walls that go down as deep as 50 meters. Moreover, these points are close, so you do not have to spend a lot of time waiting to get to dive spots.
We soon arrived at the second dive spot covering two areas of dense coral close to the port. The first area is a series of large natural outcrops, boasting dozens of species of coral and abundant sea life. It's the epitome of what a coral reef should look like. While very different, the second area tells a powerful story of coral recovery from a worldwide mass bleaching event that affected this reef two decades prior. Yamamoto tells us that Lagoon has been assisting the local fisheries association and scientists from the Okinawa Institute of Science and Technology in planting new fields of coral, and he is keen to show us the results.
The second dive was very interesting for Ludo. "It was as if the place was untouched by humans, and I was experiencing it all as the first person ever to have seen the corals. That is particularly amazing because this area is popular with novice divers and snorkelers, and it is very common to see coral damaged by poor fin kicking technique and unawareness of the fragility of coral." But he was particularly struck with planted coral fields. "The corals were big, healthy, and beautiful. It didn't look like an artificially planted area; it was if the coral had just been given a little helping hand."
"This area is excellent because it is shallow and accessible and very dense with coral, and the sunlight highlights the natural colors and beauty of the coral. It is easy to understand how it is a teeming nursery for a whole ecosystem and doesn't feel artificial at all."
After hearing the explanation of coral cultivation from Yamamoto, Ludo was keen to visit the nearby coral incubation facility. He was impressed that the fishermen's association was backing the coral regrowth and fascinated to learn the role coral plays in maintaining healthy fish stocks. Ludo was intrigued, "It is not just ecologists, but the people that actually live from natural resources that are investing in the future. It is a hopeful and inspiring action." He made a mental note to investigate coral replantation efforts in Itoman, where he lives and works.
Ludo works for the City of Itoman, promoting sustainable tourism development and is helping to create a more harmonious balance between visitors, locals, and the precious island nature they share. More than a job, he is living the lifestyle, and not just the turtle protection activity. Ludo believes strongly in preserving the environment and, as much as possible, reduces his consumption of unnecessary goods and shops regularly at Itoman's excellent Farmers' Market.
"I love the local lifestyle. My work, the kids' schools, and their daily ocean playground are all within minutes' travel time, a world away from the long commutes and harried lifestyle in the big city."
The realization that his family's big city life would translate into living for weekends, away from the city and into nature, made a move to Okinawa a simple choice for Ludo. He now gets to enjoy slow breakfasts with his daughters and spend lots of time in the ocean as a family. Ludo is also gaining great meaning from becoming more intimate with the island waters. "This comes from repeated visits and understanding the cycles of nature, learning the water's rhythms and what lives there and where to find them is immensely pleasurable. Having the chance to share this knowledge with people is a great feeling of learning and being intimate with nature. It is so far from my desensitized life in the city." No wonder Ludo is always smiling.
Okinawa Diving Service Lagoon
Located near Manzamo Port in Onna Village, Lagoon has offered diving and snorkeling tours to small groups since 2013. They operate as an "ocean concierge" service taking care of the minutest details from the very start of your tour to the end.