LIFESTYLE

Creating a life that allows me to adjust my schedule to take advantage of weather and sea conditions is my version of luxury.

On a calm sandy foreshore three silhouettes move gracefully against the setting sun. It is an ideal scene, one that captures the union of mind, body, and nature that is the essence of yoga. The fresh sea air adds a special element, something not to be found within the four walls of a yoga studio.

Beaches are an ideal venue for yoga. There are no worries about lack of space, and there is plenty to keep family members occupied while others get their yoga fix. While not native to these parts, yoga is a practice that resonates deeply with Okinawa's culture of venerating harmony and peace. Oh, and on these islands, you are rarely more than 10 minutes away from a sandy shore. Beach yoga and Okinawa are a perfect match.

"Okinawa Beach Yoga" is a service that allows you to do yoga every morning and evening at nine beaches on the main island of Okinawa. The service offers the ultimate relaxation time on the scenic beaches of the main island. Early morning and evening yoga sessions can be booked online at a beach close to where you are staying, making it easy for travelers to participate. Even if you are a beginner or inexperienced yoga practitioner, you can participate with ease as the program will be tailored to suit the participants. As a bonus, the yoga instructor will take pictures of you so that you can preserve this special experience forever.

And, slowly, exhale…. today's instructor Momoka brings the class to a serene conclusion. First-timer Mari Fujisawa cracks a gentle smile, she has clearly got her yoga glow on. A native of Southern California, she now calls Okinawa home, and relishes each chance she has to deepen her relationship with Okinawa's nature and beautiful ocean. Mari goes into the water nearly every day, but she was struck by how the focus and stillness from yoga allowed her to take in familiar surroundings with fresh eyes. She had discovered another tool to declutter her mind.

"Every day, I find myself falling more and more in love with this tropical island. The slow-paced way of life, stunning landscapes around every corner and breathtaking shades of blue. I'm so grateful that the universe guided us here."

A typical day for Mari starts around sunrise with some exercise and quiet time before heading off to the nearby beach for a morning swim. After communing with the fishes and coral for an hour or so, Mari freshens up and opens her computer for another working day. A veteran of remote working, she has been able to take her digital marketing skills with her as she has taken her workplace to some of the most scenic spots on the planet, including Australia's magnificent beaches, the idyllic islands of Thailand, and the fascinating culture that is Vietnam. Her ocean lifestyle sees her wind up the day's work with a sunset walk along the beach.

Mari and her partner had intended to live the digital nomad life traveling from one scenic spot to another for the indefinite future, but then COVID-19 intervened, and they made a hurried decision to return to Japan to ride out the uncertain future. Having lived in Tokyo for 7 years, Mari was well acquainted with the attractions of big city life, but her travels in recent years had bought her closer to nature and understanding the importance of having a more relaxed pace of life. She did not want to return to big city.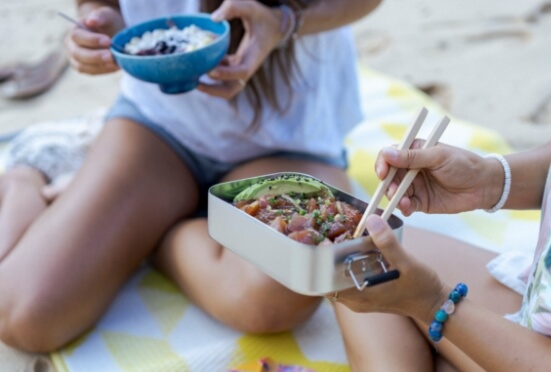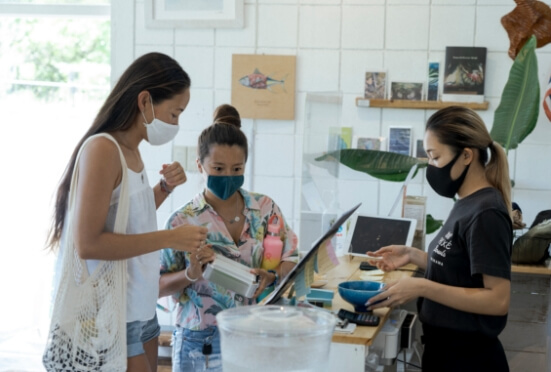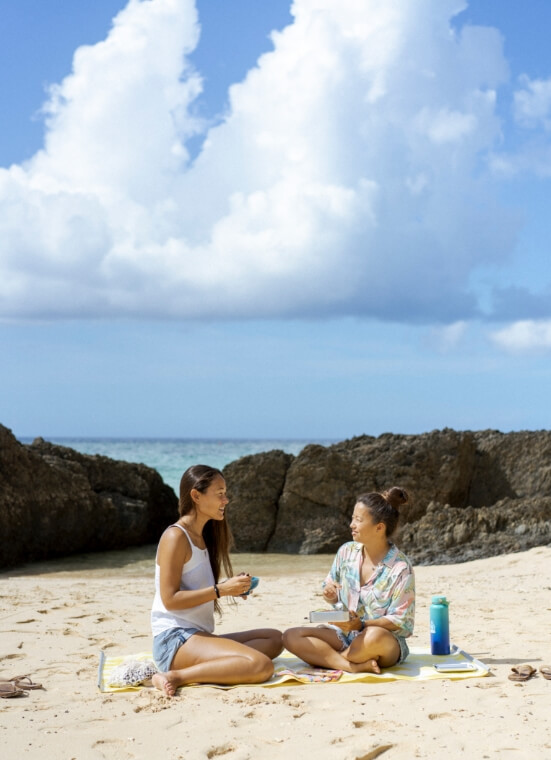 "There's no doubt in my mind that a simple, ocean-friendly lifestyle is my ideal of a fulfilling and rewarding life."
Okinawa had long been on her radar, "I always dreamed of living on an island, but between my family living in the US and my extensive travel bucket list, I didn't think it would actually happen — and so soon." As luck would have it Mari and her partner found a little apartment in a secluded part of Onna-son, an area of Okinawa with some of the best coral and most scenic beaches to be found anywhere on the island.
Mari and her partner had been sensitized to more sustainable lifestyles and actively caring for nature during their travels in Australia, and they were thrilled to carry on this lifestyle in their new home. "I have always loved the ocean, but even Okinawa's beautiful ocean needs to be appropriately taken care of," she explains.
While resort beaches are regularly cleaned for the ever-present plastic trash, other beaches, such as their local one, largely depend on volunteer action. Consequently, Mari and her partner started doing independent beach and underwater cleans together, and it quickly became one of their favorite activities. "Contrary to organized clean-ups, you're free to do what you can with the time you have, and where you want. There's no need to go out of your way because litter can be found anywhere if you look hard enough."
However, beach cleaning is more than helping to preserve the environment. "For my partner and I it is an opportunity to help shape our local environment and community as individuals. We consider it a form of community service, an expression of how we feel about the place we live. We've also managed to inspire a few others to help in their off time, and I like to think that if someone sees us picking up trash, they're more likely to double check that they haven't left anything behind or second-guess a decision to litter."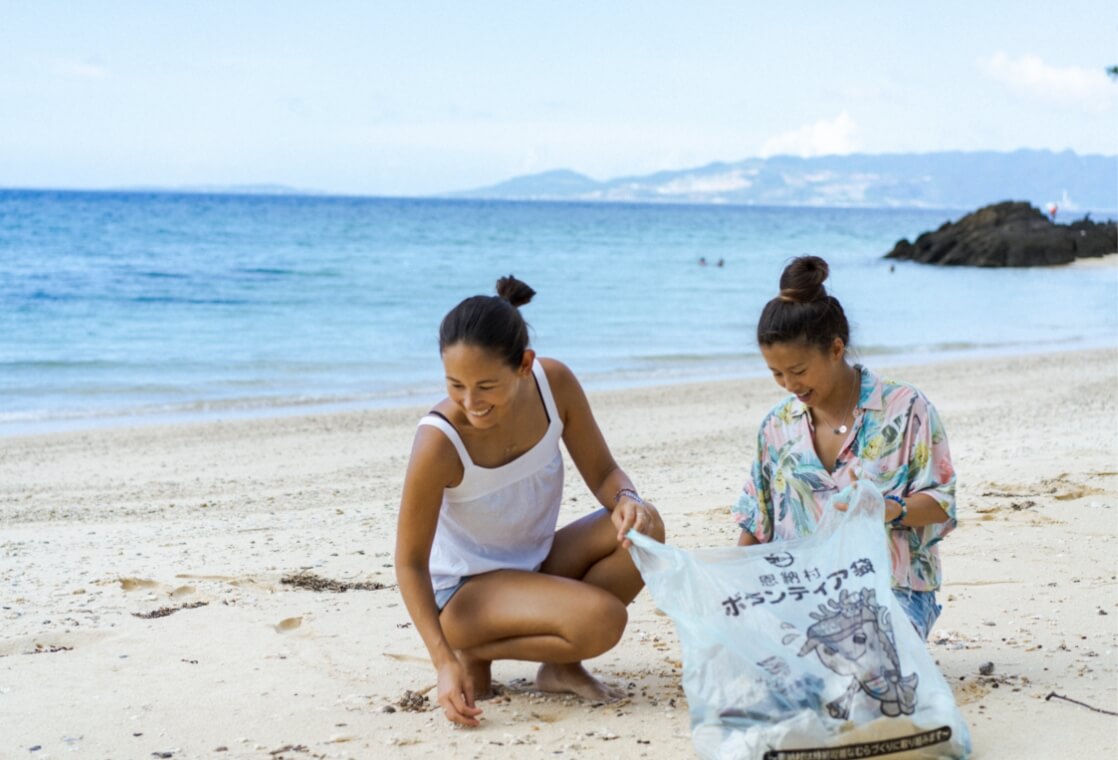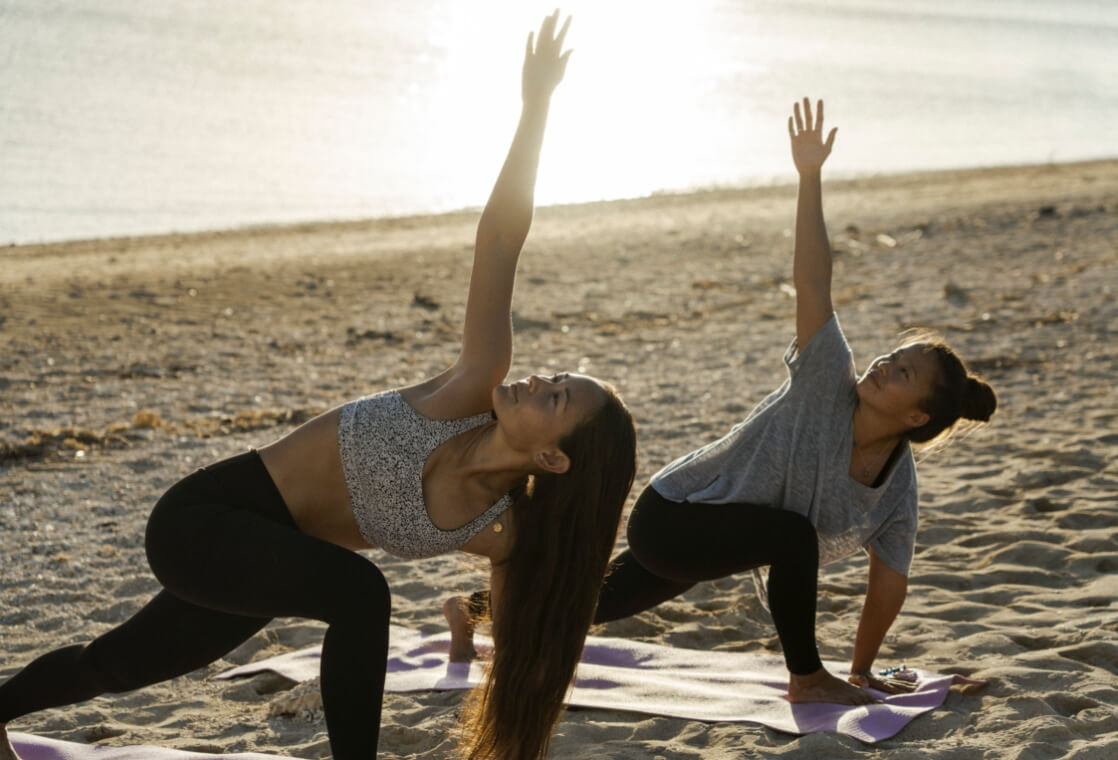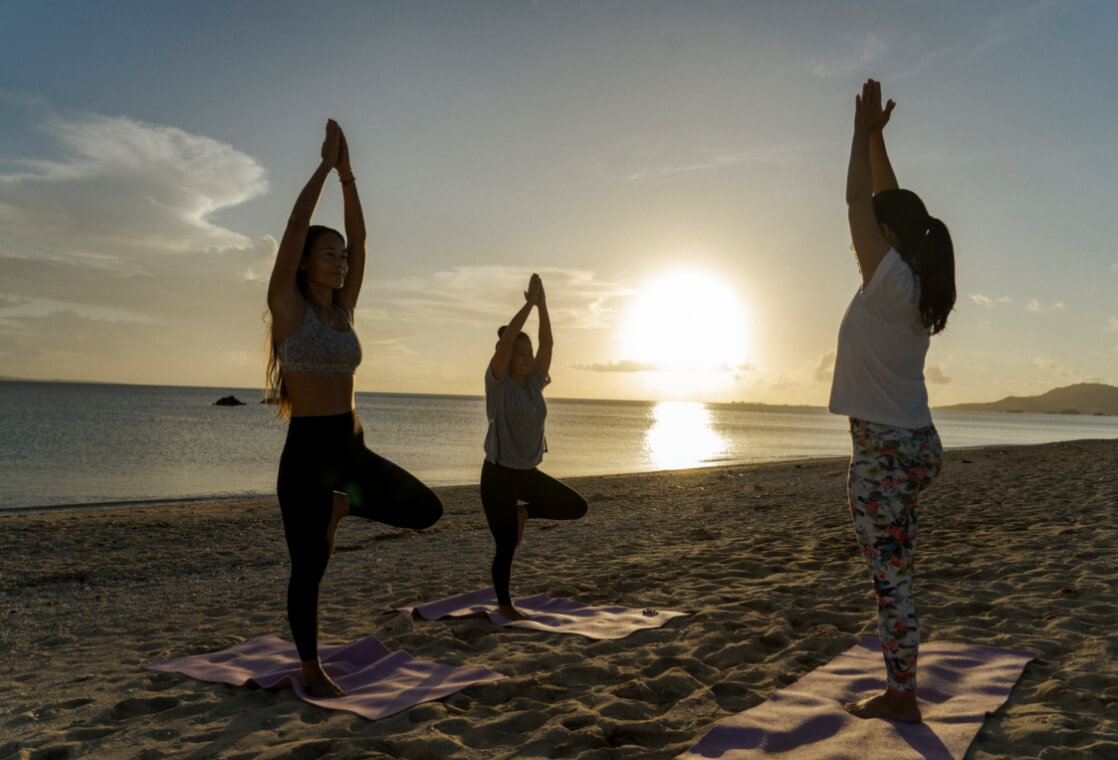 "Beach cleaning at its heart isn't just a one-off activity, it's a lifestyle change that oftentimes doesn't even involve the beach — trash littered pretty much anywhere is likely to end up in the ocean."
Whether tourist or local, Mari encourages everyone to get involved in preserving the fragile coastal environment. However, she is also well aware that beach cleans are no solution to environmental pollution. She is adamant the better approach is to stop creating and using items that contribute to this pollution. "One surprisingly easy way for consumers to participate is by carrying their own reusables, and actively refusing any disposable items. We never go anywhere without our containers, utensils, bottles, tumblers and bags, which almost all businesses happily accept."
"My love of the ocean and coral reef, coupled with the lack of understanding and awareness in others I witness daily, has motivated me to change my lifestyle from a place of mindless consumption to one of intentional, conscious choices. All the actions I take, however small, have a ripple effect — whether it's the staff at local eateries wondering why I went out of my way to bring my own dish and spoon, or someone who sees a post on social media and starts thinking about ways they can minimize their footprint. It all counts."
For Mari picking plastic is no chore, "It's both a learning and teaching opportunity. I learn from what the ocean spits out onto its shores - things like single-use masks, shampoo bottles, toothbrushes, food wrappers, plastic bags - and have actively eliminated most of my personal use of these disposable items. It's also a teaching opportunity in the sense that there's always someone watching —whether it's in-person or via what we post on social media— and spreading awareness is an integral step to developing a lasting solution.
"Moving to Okinawa taught me to slow down and appreciate the natural world again. I've found joy in our small community, and in simple things like gardening and cooking."
Time on Okinawa has stirred deep changes within Mari. "I have finally come to the understanding that true wealth and happiness isn't measured in dollars or yen. But most importantly, I've realized the extent of human destruction and just how vulnerable this island is to climate change. Saying I'm thankful for the pandemic would be ignorant and disrespectful of all the lives and livelihoods that have been lost. But I am grateful for the time and clarity that being forced to stay in one place for more than a year has provided, and for this opportunity to begin actively building a life I love by choosing what truly fulfills me."
Okinawa Beach Yoga
Holds originally developed programs that introduce participants to the beauty of Okinawa's natural settings with sunrise and sunset classes in easy reach of most popular resort areas. Beach yoga is an opportunity to bring the energy of life into the body in beautiful surroundings.